fluterbev_fic
.
A sincere thank you to everyone who has ever nominated/voted for me or my stories in
The Burton Awards
,
The Light My Fire Awards
and the

rerunawards
. It means a lot to me to know that there are people who have enjoyed my writing enough to do so.
These are the author nominations/awards I have received (most recent at the top). Story-specific awards are shown on the relevant stories.

Winner: Outstanding Author (Slash)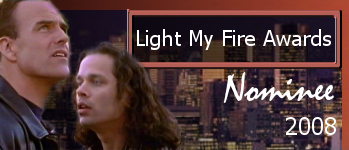 Nominee: Classic Author (Slash)

Winner: Outstanding Author (Gen)

Nominee: Outstanding Author (Slash)

Honorable Mention: Outstanding Author (Slash)

Nominee: Outstanding Author (Slash)

Winner: Best New Author (Slash)

Nominee: Outstanding Author (Gen)

Winner: Best New Author (Gen)

Nominee:
Favourite Drama Writer
Favourite Angst Writer

Nominee: Outstanding New Author (Gen)

Winner: Outstanding New Writer
Back to Home Page